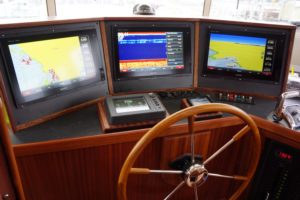 Hello from Nordic Yachts Northwest.  We are very excited about the new 40 and 44 models that are starting to role out of the factory now.  Nordic Yachts Northwest is ordering a new 40 to be finished by January of 2017, and will debut as the star of our display at the Seattle Boat show.
We are also very pleased with how enjoyable, and successful, the 2016 Nordic Tug Rendezvous at cap Sante in Anacortes was this year.  Everyone enjoyed great meals and beautiful weather.  The fantastic lineup of classes were very well received and attended.  Also our service technicians offered free service consulting on owners tugs who signed up with their questions.  It is great that we can provide a high level of service to our owners now that Nordic Yachts Northwest and Cap Sante Marine are combined to make us the true full service dealership for the West Coast.
If you have been dreaming of owning a Nordic Tug for a long time now is a great time to order!  Built right here is the Skagit Valley to your specifications, Nordic Tugs are the best of the best, cruising trawlers.  We love these boats, and would love to talk to you about starting your new build today.