I have been in yacht sales for two years now, and I have made some sales and listed some good boats.  But I have found that in a town with 20+ brokers and 15 brokerages it's hard to get enough sales to make a living.
Without some sort of edge to set yourself apart, you get one or two really good listings a year and a few more not so great listings.  Selling a good boat at a good price is easy, anybody can do it.  Selling enough inventory to make a living is the trick, and to do that you have to get the good listings.
One way to do that is through very expensive print advertising.   A full page ad in every issue of Passagemaker Magazine certainly will do it.  Boaters will see that ad month after month, and year after year, and come list with you.  Clearly you are a professional yacht brokerage.  All the brokers charge the same so why not choose a brokerage that spends the most on advertising?  They must be successful if they can afford to shell out 100+ thousand dollars a year in advertising.
But this is the 21st century, maybe there is a better, less expensive way to get known to the right customers.  Magazines will soon go the way of newspapers.  Print is dead to the generation under 30.  Why would you cut down trees, and make a physical product for someone to read once and throw away, when I have the whole world of information in my pocket?
I have already started to make sure that every listing that I have has a YouTube video associated with the Yacht World ad.  It doesn't have to be expensive and professionally edited.  It should show the boat and show your personality.  The video should also include shots of the boat out on the water, underway or at anchor in a beautiful setting.  I want to sell the experience you will have on this boat, not the product at the dock or worse, on the hard.  Get a drone, they are not expensive and make for get footage.
The YouTube video is a great start. Now share it. Google likes links.  The video can now be posted on your Facebook news feed, on your website, and in a blog.  But be careful, don't use the internet to do old fashion advertising.  With everything you post, keep in mind that this is social media.  Provide real content that boaters can learn from and enjoy.  With the old print advertising you are forcing them to look at your add if they want to look at the content of the magazine.  With a web site you need to make it a place that they want to go to month after month, to keep up on their hobby.
The angle I have is years of experience as a marine electrician.  In the spirit of the internet, I can provide information for free that boaters are very interested in listening to.  In exchange they get to know me as a person.  That way hopefully I can by-pass the fact that I don't have the expensive full page ads and get customer to list with me because they know me.  Personal relationships will always be more powerful than advertising.  As I share more useful videos on line and in my blog, I will drive more traffic to my website, and social media pages, and be invited to speak at more boating events.  I am creating more opportunities to meet my very specific target market.  Boaters that someday will need to list their boat.
A great way to build loyalty with potential customers is to offer organized group cruises.  In the past boating was more of a solitary pursuit.  Not any more, just like classes at boat shows and rendezvous have become more popular, buying a boat should now buy you into a community.  Ranger Tug as a new boat dealer has done a very good job at cultivating a sense that if you buy one of their boats you will be joining a community of boaters.  This has helped them sell their boats to many first time boaters who otherwise may have chosen an RV, or other vacation lifestyle.
Another brokerage/ new boat dealer that has been very successful using organized cruises to drive sales is Jim Rard.  His Sail Alaska cruises are a model that I think any brokerage that hopes to be successful should follow.  He sells new and used boats to people who might not have otherwise bought a boat, but they buy one specifically to go on his cruise.  He offers the opportunity to have a "bucket list" adventure without devoting years of time to build up the experience needed to make a trip to Alaska on your own.  And it makes for fantastic social media!  I love to look at his Facebook news feed.  For any one like myself who is interested in NW boating, the pictures and stories of their trip are wonderful.  That is a home run as far as I am concerned when it comes to social media advertising.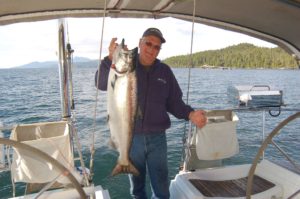 Along that same line of thinking make sure you use your customers to provide you with content to improve your web presence.  That's what Facebook has done that was so brilliant.  The customers provide the product by sharing their lives on Facebook.  You need to do the same.  It's is too daunting to think that you alone are going to provide enough good pictures, videos, and blogs to have a rich social media presence.  The more you can get your customers to share, the more desirable your content will be, the more traffic you will get.
Along with the one big trip a year offer smaller guided group cruises and rendezvous throughout the year.  You get all the benefit of the big cruise and reach even more people.  Not everyone can take 3 months off, smaller long weekend trips in the San Juans would be a better fit.  It also provides you with fresh pictures and blogs of boating fun year round.  The smaller cruises can also have different themes.  Certainly have at least two training cruises a year that are geared toward the new boater.  Have other cruises that are focused on luxury destinations around the sound, where the highlight may be a special gourmet dinner.  And yet another small cruise for more active people, where the focus is on a hiking and kayaking destination.  Again record it all, post it online and get your participants to do the same.  It will grow exponentially, and so will your sales.
A few things for back at the brokerage.  At least once a month offer boat demo rides.  To make sure this gets you the targeted customers you want have it scheduled, and make customers sign up in advance.  High quality boats like our Nordic Tugs have to be experienced to appreciate why they cost so much more than some other brands.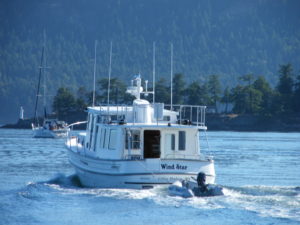 since we are the Nordic Tug dealer we should have Nordic gear available for purchase in our office and online.   If people want to share their pride in the Nordic brand we should have a basic line up of products available, hats, fleece, tote bags, ect.  We can also use the items for online contest prizes.  Be the first person to post a picture of your dog or cat on a Nordic Tug and win a free Nordic Tug fleece.
Office cell phone.  When I worked for Cap Sante Yacht Sales we had to carry a cell phone that was the office phone and Yacht World eight hundred number.  I think this works a whole lot better than the office phone system we have now.  Yacht Sales is not an office hours, six day a week business.  When a potential customer is ready to list or buy a broker should answer the phone.  This is especially important in the spring and summer selling season.  For our office we would need to separate the Gateway number from the yacht sales number.
Finally, why am I writing all these ideas in a blog on my page where anybody can read it?  Last week I told Richard that I would put down some ideas on how to improve our brokerage sales in writing for him.  Instead of taking an hour to write up my ideas and send them to one person in an e-mail I am using this as an opportunity to post more content on my page, in the form of a blog.  Whenever a customer asks a good question instead of answering that one person, write it in your blog.  Then e-mail the link to your customer.  Now you have sent one more person to your page, and you can potentially use the answer again when someone else asks the same question.  But what about sharing "inside information?" Shouldn't we keep this sort of thing a secret?  No.  The younger generation shares their life online.  Providing inside information showing just how you operate and think behind closed doors is exactly what you need to share.  It will keep readers interested and more importantly show that you are sincere.  But won't other brokers be able to steal these ideas?  Maybe, but they are not really secrets.  It's implementing the ideas that counts, and continuing to come up with new fresh ideas so that we are always one step ahead of the other brokerages. I feel that always taking advantage of the latest technology, and online social trends is going to be the key to success in the brokerage business.