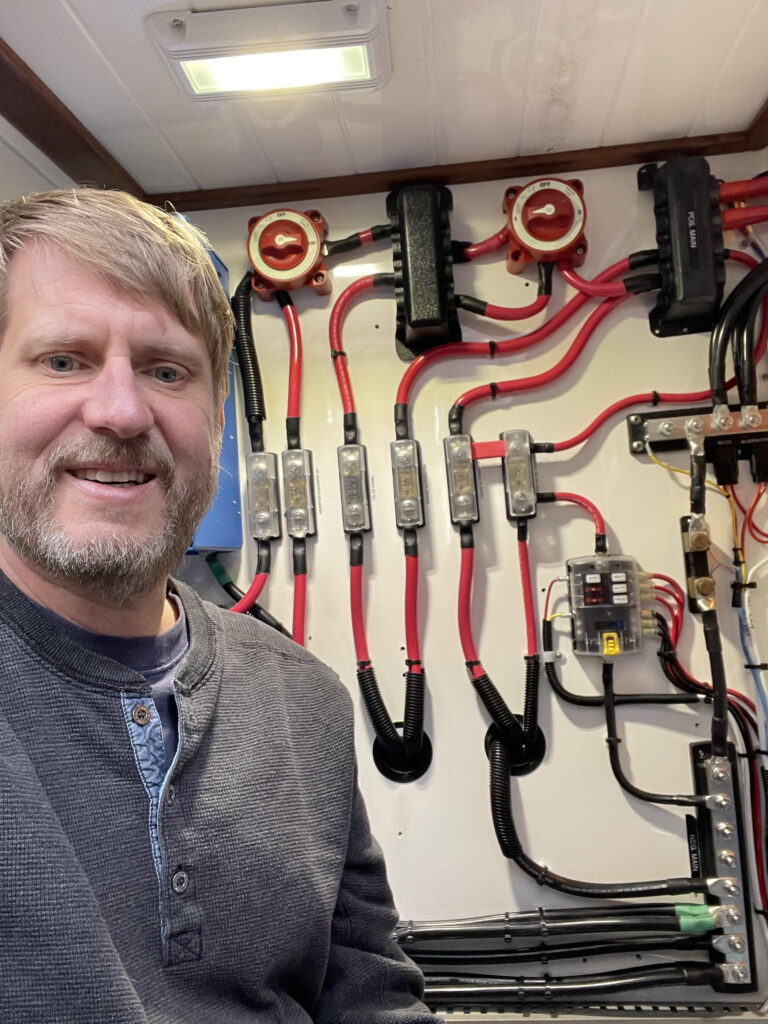 ROVANG MARINE James Rovang
Now Serving Customers in Squalicum Harbor, Port of Bellingham Marina.
Electrical Services
Charging Systems.
Installation of the latest in battery and charging technology. I use my years of experience to integrate new
Victron Energy
equipment and lithium batteries into your existing electrical system.
I will install powerful new
solar panels
, and controllers to almost eliminate generator run time.
And the latest in alternator charging regulation by
Wakespeed
, to round out your new power system.
Power Distribution. New electrical panels, sub panels, breakers, add outlets, shore power inlets, bilge pumps, and high water alarms. Upgrade you electrical system to meet ABYC standards.
ELCI Testing. All new shore power pedestals will have a 30ma electrical leak breaker. I can make sure you boat meets this new standard.
Galvanic Testing. If you have concerns about your boat being affected by other boats in the marina I can give you answers. I also work with local divers and marina operators to solve shore power and electrical leak problems.
News
In July of 2019 my wife Niccole and I moved to Sudden Valley. I have continued to serve my customers in Anacortes, and am starting to take on more projects in Bellingham. I am looking forward to meeting new friends and customers. If your moored in Bellingham, and your boat is in need of some help from an experienced and knowledgeable electrician, give me a call.
Background
I started sailing in the San Juans when I was in high school with my Dad aboard my Balboa 21. Growing up in Portland sailing on the Columbia and Willamette rivers was wonderful, but the highlight of my year was always getting to go cruising in Washington and British Columbia.
Later we spent many years charting larger boats out of Anacortes through Anacortes Yacht Charters. From 1997 to 2010 we took many memorable trips up through the Canadian Gulf Island. Not only did we make fantastic memories, I also loved the experience of cruising on many different boats: 37 Lord Nelson, 42 Nordic Tug (one of the first built 42-002) 37 Nordic Tugs, 37 Pacific Trawler, and 34 American Tug.
In 2005 I decided to move to the place I loved to vacation and work on boats full time. I started out at Pacific Mariner in LaConner where I worked as an electrician on the 85 line. This helped me settled on Marine Electrical as my true passion. By spring of 2006 I was in business as ROVANG MARINE. I completed my ABYC certification shortly after, and was warmly welcomed by the boating community in Anacortes.
I hold both ABYC marine electrical and ABYC marine corrosion certifications as well as a Master's degree in education.
Northwestern University,
Evanston
IL 1992
Pacific Lutheran University, Tacoma WA 1989
ABYC
Certified Marine Electrical
ABYC
Certified Marine Corrosion
2023 Labor Rate: $100 per hour. (Starting July 1, 2023)