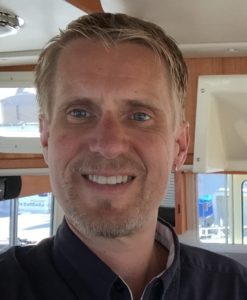 ROVANG MARINE     James Rovang
ELCI Testing.  All new shore power pedestals will have a 30ma electrical leak breaker.  I can make sure you boat meets this new standard.
Galvanic Testing.  If you have concerns about your boat being affected by other boats in the marina I can give you answers.  I also work with local divers and marina operators to solve shore power and electrical leak problems.
Charging Systems.  Service and upgrade, inverters, chargers, transformers, alternators, solar, and battery monitors.  For years I have specialized in optimizing yacht electrical systems.
Power Distribution. New electrical panels, sub panels, breakers, add outlets, shore power inlets, bilge pumps, and high water alarms. Upgrade you electrical system to meet ABYC standards.
Lighting. Convert your boat to all LED lighting. Add light to dark spaces.  Add accent lighting.
Entertainment systems.  Upgrade TV and audio systems, including TV lift systems.
I specialize in corrosion and perform stray current analysis for boat owners and marina operators.  Over the course of ten years working as a marine electrician, I found that underwater corrosion and stray current, while plugged into shore power, was an area of widespread misunderstanding and fear. My services have always been in high demand and it is my duty and pleasure to put my fellow recreational boaters and the marina managers at ease with a professional assessment.
Yearly inspection, assessments and education are key for a safe marina and freedom from injury and liability.
Aside from my testing services, I also offer seminars to boating groups on the topic which have always been very popular.
I hold both ABYC marine electrical and ABYC marine corrosion certifications as well as a Master's degree in education.
Northwestern University,
Evanston
IL  1992
Pacific Lutheran University, Tacoma WA  1989
ABYC
Certified Marine Electrical
ABYC
Certified Marine Corrosion